The Winter Wellness Treatment: "San Fu Moxa"
What is it?
The Winter Wellness Treatment is a Chinese herbal topical procedure done 3 times, ten days apart, on the hottest days of the summer in order to prevent colds, flus, asthma, and other respiratory illnesses that we get in the winter.  For best results, do this 3 years in a row.
What's a treatment like?
An herbal paste is placed on specific acupuncture points on the upper back that affect the immune system and the respiratory system. The paste is left on, covered by a band aid, for 1 hour on children and 5 hours on adults and then washed off.  This is safe for both children and adults.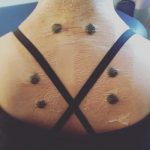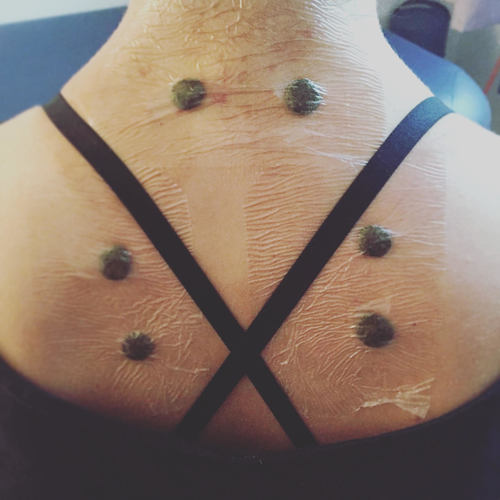 Thanks to www.lovieacupuncture.com for this photo of The Winter Wellness Treatment.
Were does this come from?
What we call the Winter Wellness Treatment is technically called San Fu Moxa.  It has been used in China since the 1600s. More recently, there have been clinical studies that have found it to be very effective in preventing upper respiratory diseases in the winter.
When do you receive this treatment?
There are very specific dates to receive the Winter Wellness Treatment. The treatment includes all 3 applications.  For 2017, they are:
July 12th
July 22nd
August 1st
It is feasible to do them the day before or after these dates, but clinical research has shown that the best results happen when the specific dates are followed.
How much does it cost?
For the series of 3 herbal applications, it is a total of $50.  Bring the whole household together for $100 total.  Each application takes about 5 minutes.  Please wear a loose fitting shirt that you can either remove or pull down from the neck.  The treatment is done in a private room.
How do I sign up?
Please schedule your appointments, here:
https://nourishingmedicine.fullslate.com/
Then click on Winter Wellness Treatments to choose your appointment times on the three dates above.  You will receive an immediate email confirmation.  If you don't receive this, then the appointments are not confirmed.  Try again or call us at 503.860.8998.